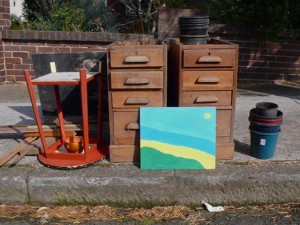 Every day, all across Sydney, people are abandoning artistic projects. Paintings people have spent hours of work on are discarded, tossed out on the street with rusted woks and broken clothes racks, destined to become landfill.
Re:make has a mission: to rescue these unloved art projects and give them a new life with the help of a group of emerging and established Sydney artists. In the first series of re:make, 12 rescued paintings will be paired with 12 artists. Working with the original canvases, the artists will transform these once abandoned paintings into new works of art. The remade works will be collected into a group exhibition opening in early 2014.
The works will be available for sale, with proceeds funding an art workshop program at East Sydney High School,  a community school providing for young people who have experienced difficulty in accessing mainstream education.